VETNAR 2200
Versatile anaesthesia machine for small animals from 0.1 to 100 kg
Inhalation Anaesthesia Machine VETNAR 2200
The machine VETNAR 2200 produced by our company has a modular design. The basic breathing unit VETNAR 2200 Basic can be completed with additional modules like unit for electronically controlled ventilation and vital function monitor (like ECG, breathing, SpO2 a CO2) as well.
We standardly produce a machine, where supporting gases O2 + N2O or O2 + air are used. Naturally, you can use O2 only. From the viewpoint of saving O2, it is more suitable to use N2O or air as well. It is also possible to use oxygen concentrator as oxygen source. Advantage of the machine is using of precision vaporizers outside of the breathing circuit. Isoflurane or/and Sevoflurane can be used. Because of unique system DIF (Direct Inspiration Flow) you can work on semi-closed system already from 2-3 kg of patient weight. Open system works from 0,1 kg of patient weight. Electronically controlled ventilation is possible to use also for resuscitation of a patient.
Semi-closed and open circuit for spontaneous breathing
Hi-quality silicone breathing circuits and bags
Electronically controlled ventilation for both semi-close and open system
O2 + N2O or O2 + air supporting gasses
CO2 absorber
Build-in monitoring of breathing, heart activity, SaO2 and CO2
Active pollution scavenging system for transporting exhaust gasses
Two flow-meters O2 and N2O or O2 and air
Small stable trolley on the wheels with holder for up to two 10 l gas cylinders
Minimal size requirements, dimensions 520 x 520 x 1330 mm
Precision vaporizer outside of breathing circuit
Possibility to mount two vaporizers
Safety relief valve
O2 bypass valve
Possibility to use it as resuscitation machine with monitoring
Economical in consumption of O2 and anesthetic
Veterinary Vital Function Monitor VETMON 2200
In the operations and directly after operations of small animals it is very good to provide the monitoring of the patient's vital functions both from the standpoint of keeping the operator calm and providing perfect care for the patient.
Build-in monitor can be used during surgery but also of course alone without anesthesia.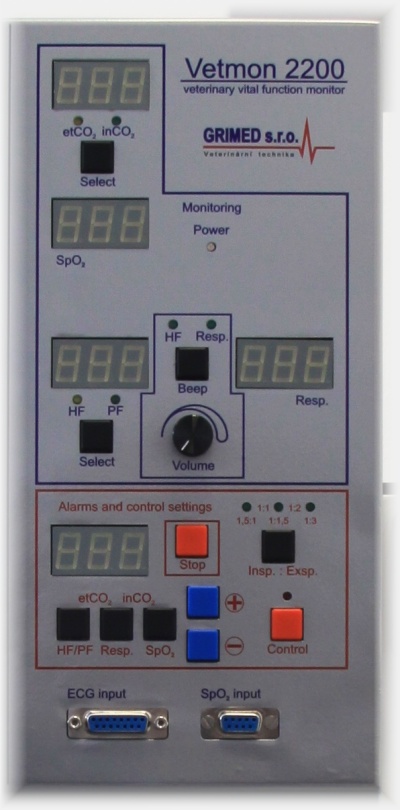 Monitoring of heart activity
Monitoring of breathing
Monitoring of SpO2
Monitoring of CO2 in the breathing circuit
Acoustic and optical indication
Acoustic alarm of minimal value
Acoustic alarm of cardiac arrest and apnoe
Easy to connect to the patient
Easy to use
Supplying with safe voltage by means of adapter 230V/12V
Small dimensions, cost efficiency